30 July 2020
'Recreate for Happiness, Reuse for Fun': A New Way of Designing Brings Smiles to the World
While new technologies and inventions are created every day to meet people's needs and comfort, our unsung friend, natural resources, largely go unnoticed.
One approach to making human consumption of natural resources for everyday life more sustainable is by consuming less and trying to make use of them for longer periods of time. This is the reason that product design is currently focused more than ever on eco-design concepts – by concentrating on environmental impacts and promoting the use of natural resources at a minimum. It also focuses on reducing pollution by preventing solid waste from returning to the ecosystem. This can be achieved by making a product biodegradable or bringing waste materials back into the production process to make new products.
Eco-friendly designs inspire operators to develop environmentally friendly and socially responsible products that last a long time and which convince consumers to 'recreate for happiness, and reuse for fun.'
As an increasing number of people support environmentally friendly products, their designs become more interesting and fun compared to the more traditional eco-friendly products which we are used to seeing.
Today, we want to introduce some cool concepts behind the following four products as part of the 'Upcycling, Upstyling by GC' project, a line of creative products initiated by PTT Global Chemical Public Company Limited in partnership with a group of partners including the Plastic Industry Club, notable brand owners, and designers from several sectors. The goal is to encourage participants to unlock their creative ideas by transforming waste or unwanted materials left from production, including biodegradable products, recycled plastic, and even traditional plastic into various types of new products that are enticing, eco-friendly, and functional under the 'Up Waste to Value with WOW! Style' concept. This can show how newly made products offer broader business opportunities to plastic companies while encouraging everyone to maximize their use of left-over resources.
Straws Bubble 'Waste' Providing Endless Benefits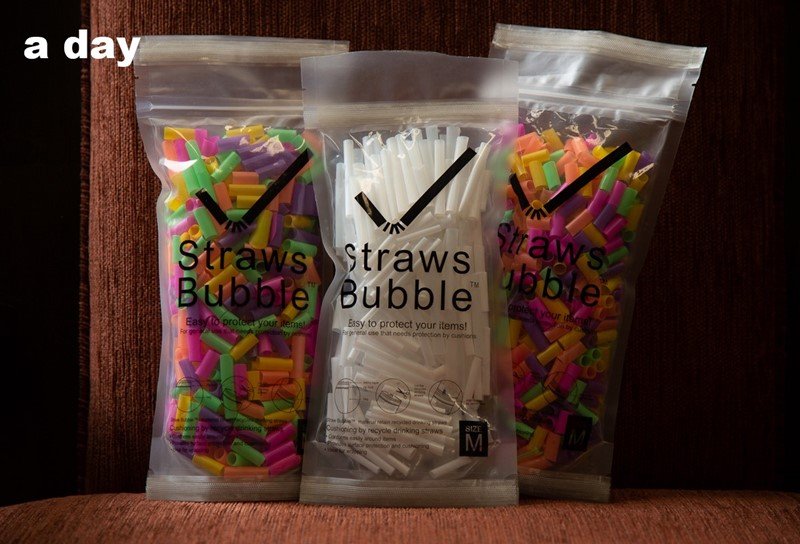 One product that demonstrates a brilliant idea is 'Straws Bubble' which was created by Mr. Somchana Kangwarnjit, a designer from Prompt Design and Thainam Polypack Co., Ltd., a household name in the food packaging and flexible packaging business. The aim of Straws Bubble is to mitigate the problem of leftover plastic scraps from the manufacturing of plastic bags and straws.
"Frankly, I didn't know what I wanted to do in the first place. However, I've always been working on packaging, so I thought about finding a way to further develop the concept. At the time, online shopping was the big trend and the products were usually packed in unsuitable protective packaging due to size restrictions. Most people therefore chose to use plastic bubble wrap which is more practical even though it is later discarded as waste."
A visit to Thainam Polypack enabled Mr. Somchana to discover that a characteristic of straw tubes is their strong resistance to pressure, which is made even stronger when gathered together in various sizes. He then took three bags of plastic scraps in different sizes to make a prototype. Eventually, plastic straws and scraps were transformed into Straws Bubble in which used straws were cut and stuffed into different sized bags to meet the various uses of consumers. In addition, the top and bottom of the bag have velcro straps to expand the length and make it more inflated to secure the proper pressure capacity. Users can then fill-up the bags with their cut-up straw as needed.
Wattana Krisnavarin from Thainam Polypack Co., Ltd., and Somchana Kangwarnjit from Prompt Design.
Mr. Somchana noted that his creative packaging product is meant to draw the attention of consumers. "I want people to believe that it's not a difficult or complicated thing to do and that people don't need to rely on the industry to become more eco-friendly. Everyone can demonstrate their environmental integrity by adopting DIY habits on a daily basis," he said.
This cool product helps reduce the accumulation of a large amount of waste and the resources required to produce plastic bubble wrap for product deliveries as it can be continuously reused.
REUSE ME I WANNA BE WRINKLED: Dare to Highlight the Charm of Imperfections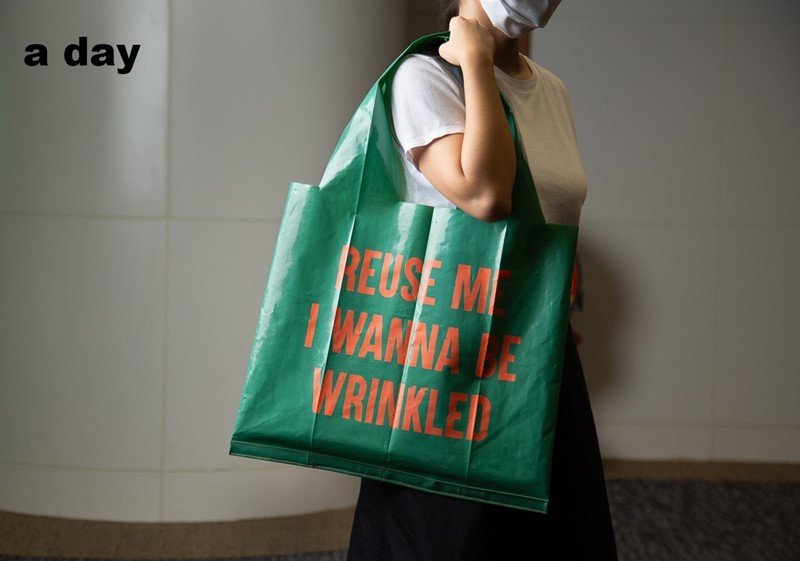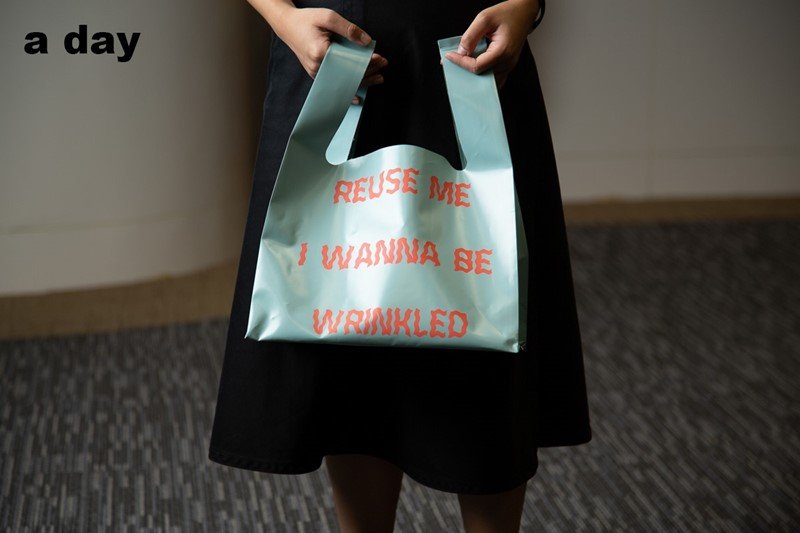 When trying to come up with a design that is close to 'perfection', it's often the case that we unwittingly end up consuming an excessive amount of resources. Wouldn't it be better if we could accept the charm of something 'imperfect'?
A plastic bag which we strongly recommend was created by Ms. Ploypan Theerachai and Mr. Decha Archjananun who are both designers at THINKK STUDIO. They collaborated with Lawanvisut Plastic Thai Company Limited which produces plastic bags. The initial idea was to transform waste from the manufacturing of plastic bags into brighter and more eye-catching recycled bags under the name 'REUSE ME I WANNA BE WRINKLED,' providing a welcome departure from the rather traditional and dull plastic bags currently available in the market.
Both designers discussed their work processes, explaining, "First, we established a clear purpose of developing something from what we can find in the factory, from beginning to end without remodifying our manufacturing process to not incur extra costs. This resulted in the idea to produce a recycled and extra thick plastic bag making it more durable and longer-lasting, while also reducing the volume of small leftover pieces of plastic waste which can have a negative environmental impact."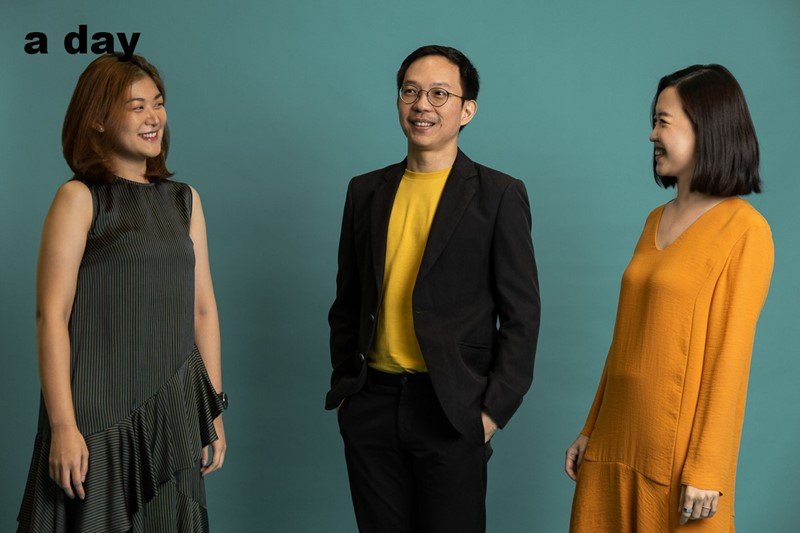 Nareerat Lawanvisut from Lawanvisut Plastic Thai Company Limited, Decha Archjananun and Ploypan Theerachai from THINKK STUDIO.
An eco-friendly product may not be a consumer's first choice, so Decha wanted to incorporate a more fun and unique design to generate some interest. "We wanted to develop a recycled plastic bag for people who are fashion-conscious by turning its unpleasant looking creases into an interesting and charming feature. We also use a variety of folding and sewing techniques, and attached handles to the bag. Initially, we experimented at our studio before demonstrating how to do it to workers in the factory."
This eye-catching recycled bag is thick and durable so it will last as long as a fabric bag. Each piece features an identical yet attractive look thanks to its uneven color – the result of the mix of plastic scraps available at the time of production, and the creases that form on the bag over time. Each piece of the recycled plastic bag brings a unique experience making it a limited edition item that is environmentally friendly and representing its individual character.
Environmental and community support with Tai Taley 001
The fisheries industry plays a crucial role in contributing to food security and stability in Thailand, while fishnets and seine fishing are commonly used fishing tools. In order to prevent fishnets from becoming waste, can we make use of its form to produce a new and equally useful item?
This question inspired Mr. Korakot Aromdee from KORAKOT and Siam Brothers Co., Ltd., a fishnet and seine fishing producer, to join together to create a woven chair using rope from fishing nets. The chair serves as a reminder of the ocean thanks to its durable properties (water and wind-resistance) and tough character like a seaman.
"Method, folklore and aesthetics are the three things that I incorporate when creating a product. I wanted to see what I could use during my first visit to Siam Brothers' factory. I ended up choosing this soft and lightly-colored rope fiber together with a unique design and weaving technique. Basically, I wanted to make a piece of furniture that represents a modern seamen's way of life. Using the rope from fishing nets helps reduce their environmental impact while portraying an oceanic lifestyle and summer vibe. The paint underneath the chair is the color appearing at the end of our color spectrum," said Mr. Korakot.
Korakot Aromdee from KORAKOT and Supamas Sawatyanont from Siam Brothers Co., Ltd.
While the product was somewhat challenging as it went a bit beyond the traditional work processes of the factory staff at Siam Brothers, the chair nonetheless marks an important achievement for their first attempt. "To readjust traditional craftsmanship in knotting and weaving fishing rope into a technique to create a piece of furniture is always something that will take some time to accomplish. First, we came up with a sample of colors and forms for the manufacturing team who worked very hard to create a product based on our requirements which underwent four-five adjustments."
"Not only are we maximizing the use of materials, we are also helping promote this type of handicraft which supports the employment of local residents, enhances their well-being, and improves the environment. We believe that this creates multiple benefits across various dimensions," concluded Mr. Korakot.
Reinterpreting a role for plastic by offering a 2nd Life and 2nd Chance
Plastics offer numerous benefits, however, the difficulty in getting rid of them always makes them a villain.
'Nobody is born evil' is behind the creation of Mr. Ek Thongprasert, the designer behind his namesake agency, which led to giving a 2nd life to PET plastic bottles which contribute to large volumes of waste in Thailand. In partnership with GC's Upcycling Shop, he makes use of plastic waste through modern, stylishly restrained products with the idea of giving a 2nd chance to plastic through new creations.
"I believe that plastics provide benefits – and do not just have a negative side. As designers, we are capable of upcycling a selected material and we just need to pick the right one," said Mr. Ek. Furthermore, his initial idea was to give a new opportunity to plastic while considering the impacts on people in society. "Our society consists of various groups of people who are desperate to be given a 2nd chance. I thought about people who are incarcerated and who are released from prison but are never offered a 2nd chance or acceptance from others. I wanted to provide them with a career and a new way forward so they can express their creative ideas and potential through a shared outcome."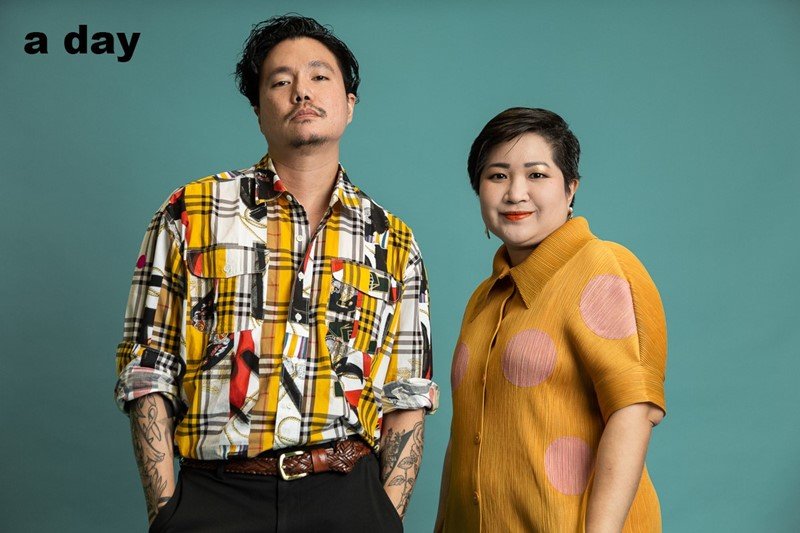 Ek Thongprasert from Ek Thongprasert and Kasina Samdaengdech, Manager of Solution Management for GC.
The product came to life through a partnership with a career building project for prisoners in the zone 3 penitentiary in Chiang Rai. The product design showed one hand pulling another demonstrating an offer of assistance to those who fall as the key visual. The hand on the top is left blank for prisoners to include their sewing creations alongside the embroidered names of the creators (inmates) to mark their identity.
The outcome represents the successful use of materials creating new value, in addition to being a symbol of change generating jobs and giving a 2nd opportunity to a group of people who long for hope.
Many Thais may be wondering how effectively we are using the resources around us, or what types of waste we can recycle in Thailand to create new products that make us proud, or even what kinds of items we can use over time without exploiting other resources.
These pioneering designers are taking the lead by answering these questions and demonstrating the huge benefits that can result from an innovative approach leading to circular design and production.
This content is an excerpt of an interview from A Day Magazine's website entitled, "Turning a problem into a benefit through Upcycling, Upstyling designs," on July 23, 2020.