19 August 2020
The 'Making Merit with Plastic' project turns PET plastic bottles into Monk's Robes Reducing Greenhouse Gas Emissions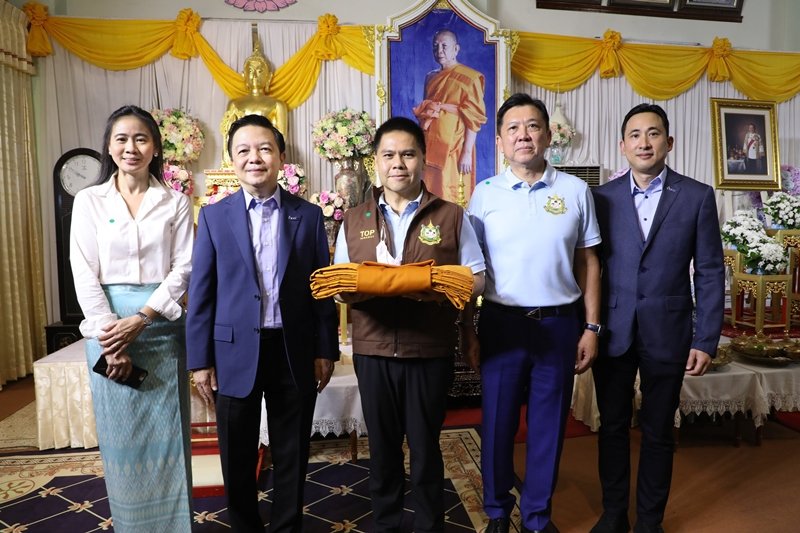 GC has consistently adhered to the principles of the Circular Economy by adapting them into its business operations in three ways: Smart Operations, in which technological applications encompass the development and improvement of manufacturing processes to reduce the consumption of natural resources and promote circular use ensuring their maximum benefits; Responsible Caring, which promotes the development of eco-friendly products; and Connecting Loop, in which all sectors across the supply chain are connected to develop and pursue socially responsible projects that promote the efficient use of resources, reduce waste generation, and transform waste into value-added products – all of which are connected into an integrated business. Among the projects is "Making Merit with Plastic" (when you recycle) which recently reached an important goal.
On August 19, 2020, GC CEO Dr. Kongkrapan Intarajang, along with Mr. Varawut Silpa-archa, Minister of Natural Resources and Environment, and Mr. Jatuporn Buruspat, Permanent Secretary of the Ministry of Natural Resources and Environment, joined together to provide monks robes for the 'Making Merit with Plastic (when you recycle) project at Wat Pa Lelai Worawihan in Muang district, Suphan Buri. The robes were made from PET plastic bottles previously collected at the drop-off point located at an agency in the Ministry. The project marked its initial first phase of success in line with national strategic plastic management plans, and will expand to successive phases.
A large number of partners participated in this project through which PET plastic bottles went through the upcycling process producing 40 sets of three-piece value-added garments for Buddhist monks, consisting of the robe, 'sarong,' and an extra robe. One set of a monks robes takes 40 PET plastic bottles and is tailored by local residents in the Wat Chak Daeng community. The project has gained broad recognition and success, and has also helped reduce greenhouse gas emission by 82.79 KgCO2e.